What mobile case should you get to protect your mobile phone? This is a question that many people struggle with, and the answer can vary depending on your needs. For example, if you work in construction or other fields where your phone might take a beating, a heavy-duty case would be best for you. However, if you need something light to keep from scratching the back of your phone when it's in your pocket or purse, then a simple mobile cover will do. In this article, we'll discuss some of the different types of mobile cases available so that you can find one that meets all of your requirements!
What is a phone case, and what does it do for the phone?
A phone case is a device that protects mobile phones from damage and enhances the mobile's look. It covers the mobile's body or backside to prevent its surface from getting scratched, scuffed, cracked, etc. In short, it safeguards mobile against external factors such as dust particles, accidental drops, bumps, etc.
In addition to this, mobile cases can add a personal touch to mobile. There are different mobile cases such as wallet cases, flip cases, hybrid cases, and many more. Some phone covers also act like mobile wallets where you can put your cash and cards while going out for shopping or other purposes.
Why should you buy a protective case for your phone?
Well, mobile phones have become an integral part of our daily life. We use them in highly critical situations and the most mundane tasks like taking a selfie or making a video call. Therefore, it is necessary to protect your mobile phone so that you can enjoy its functionality for a long time without worrying about any damage.
A protective case not only protects your mobile phone from scratches and impacts but also saves it from damages like moisture, dust particles, fingerprints, etc.
Which are the best types of cases to buy for my kind of phone (iPhone, Samsung Galaxy, etc.)?
There are different types of mobile cases that you can opt for according to your mobile phone type. You can buy a mobile case by the brand and model of your mobile phone, which will make it easier when looking up online or at retail stores. Some examples include:
Wallet cases - these are great if you need something sleek to carry your mobile, wallet, and other daily essentials. These are available for all major phone brands, including Apple iPhones, Samsung Galaxy phones, etc.
Waterproof cases - these are great if you want protection against water or any liquid in general. There is a wide range of waterproof mobile cases that work well with both outdoor activities and indoor ones.
Heavy-duty mobile cases - these are great if you work in rough environments or have kids who may drop your mobile phone on the ground by accident. They offer maximum protection, ensuring that there is no damage even after multiple falls and drops!
How much should I spend on one of these cases - how much will they impact the resale value of my phone when I want to upgrade in two years?
The price of mobile phone cases varies greatly, ranging from ₹199 to ₹999 for a mobile phone case made of plastic and can be quickly snapped on and off. Generally, mobile phone cases in the price range of ₹299-799 are good enough to protect your mobile phones from scratches and minor falls. You can even get mobile phone cases made of carbon fibre and other hard materials that will add to the resale value of your mobile phone.
If you have a high budget, go for mobile phone cases in the price range from ₹999-1499 as they will provide reasonable protection against falls and drops. Currently, mobile phone cases available at Accesorios in the price range of ₹299-599 are made of quality material and add to the style statement of mobile phones. In addition, mobile phone cases with leather texture too can be purchased from Accesorios that gives a classy look to your mobile phone.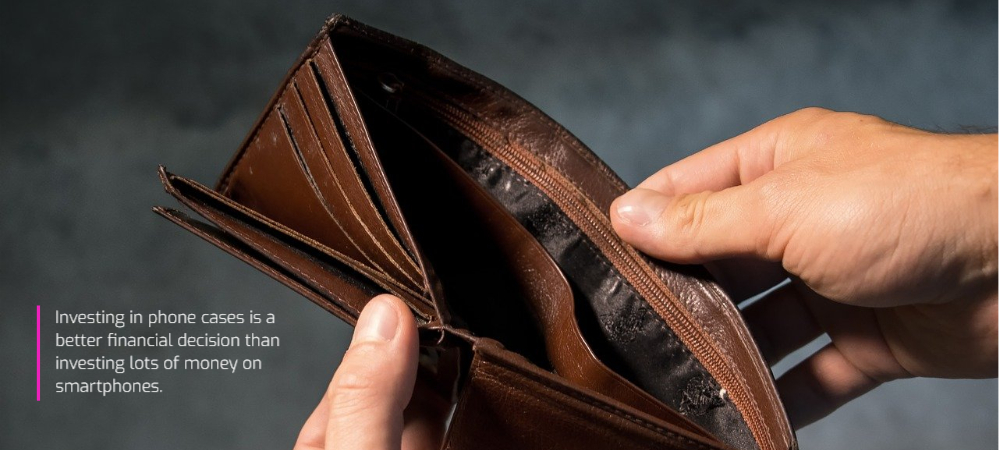 In addition, mobile phone cases available at Accesorios come with covers that protect the mobile phones from dust and scratches. So, mobile phone cases have a lot to offer, and you should invest your money in a suitable mobile phone case that will keep your mobile phone safe and secure for years to come.
While purchasing mobile phones online, it is recommended to check the mobile phone case and the mobile price. This way it would be convenient for you to check mobile phone case that suits your mobile phone. Therefore, mobile phone cases are an essential accessory of mobile phones, and without mobile phone cases, mobile phones may not be able to last long, which will impact the resale value of the smartphone.
Accesorios is a one-stop destination where they have gathered mobile phone cases in all available styles ranging from traditional mobile phone cases in plastic or leather to mobile phone cases.
It is essential to protect your phone with a case because it will save you money, maintain the resale value of your phone in two years and make sure that if you drop it on accident, there's no risk of breaking or damaging the screen. If you're not looking for anything flashy but still want protection, buy one of these cases. They are inexpensive and provide extra grip, so there won't be any harm done when you accidentally drop it!